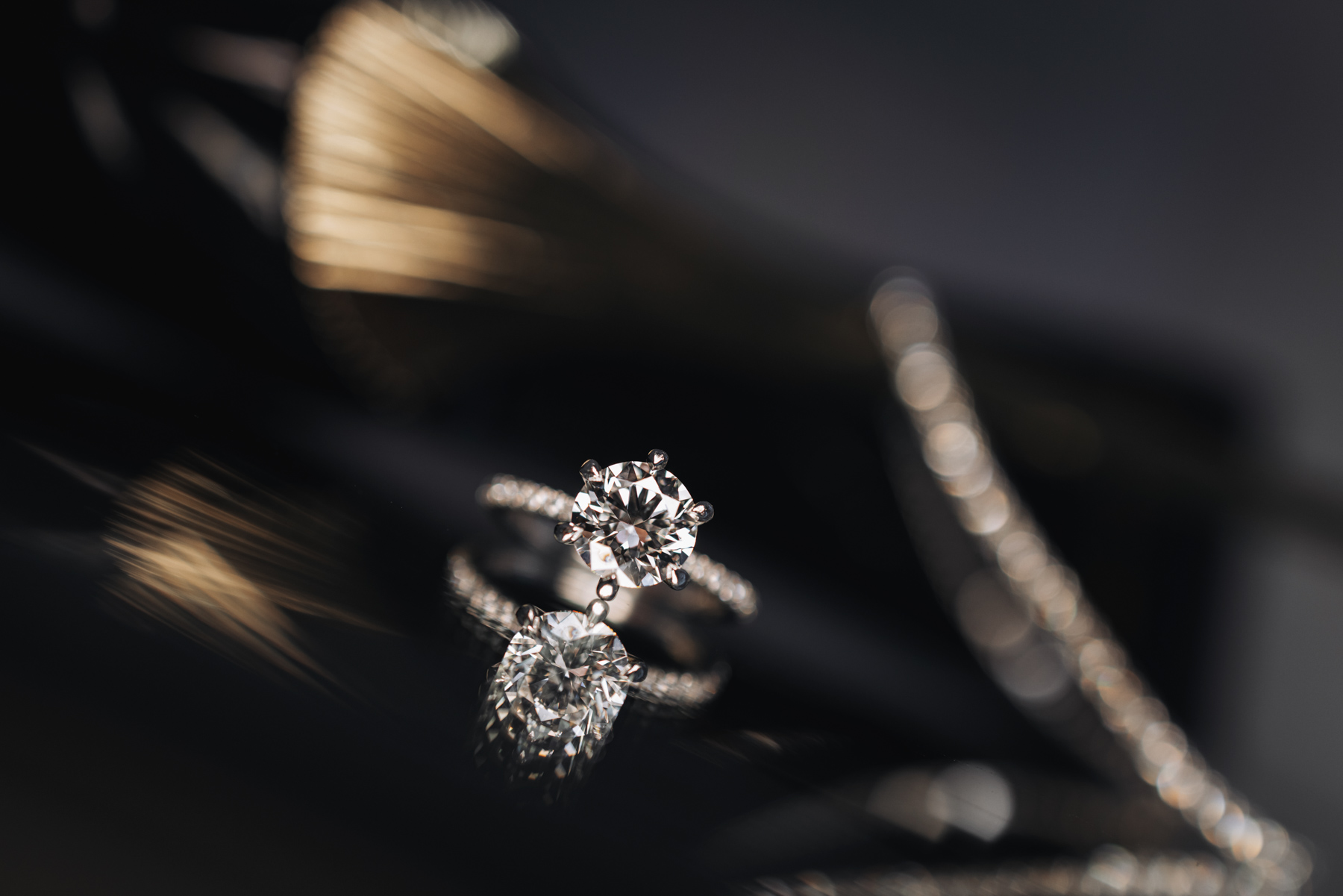 A Diamond seems to sparkle because of the unique way it reflects light. We went for some artistic reflections with this wedding ring.
We capture some of the personality with the bride's jewellery and an earlier photo of the couple. Such a bright happy feel to the day, right from the beginning.
A beaded dress always looks exuberant.
But what makes a dress look really impressive is how well it suits the bride.
We were glad to get this almost too pure image of the bride and her bridesmaids. Everybody is in the right place, with the right light, and the right soft colours in the flower arrangements. 
All those perfect flowers, yet the bride is still the centre of attention.
The groom's rings. Again, we like the reflection of light and geometric shapes.
Some black and white images gave a more formal look. We like the feeling of camaraderie here – matching suits and accessories.
Inside the Saint Abanoub and The Holy Apostles Coptic Orthodox Church. Such a wonderful atmosphere, woodgrain and art.
We love this, an almost cheeky bride and groom wearing crowns. It even suits the surroundings.
Confetti outside the church. A joyous moment.
Always we look for an image of the bride and her train on the stairway. We were fortunate to get a nicely balanced situation with all the bridesmaids and groomsmen.
A few images of the newlyweds in the centre of Sydney. All that old stonework makes for a great background.
Doltone House Marconi, always a fine reception! Just look at this head wedding table.
Light chandeliers, floral arrangements, the right décor – this was a luxurious occasion.
A floral arch, always good to see.
And with the floral arch lit the place looks amazing.
Live music is always a plus. All the better for following a different tradition. What bride and groom wouldn't want to dance to these lights and music.
And a five-tier wedding cake. It takes a lot to produce such an elegant design.
A more familiar dance for the bride and groom amid lights and smoke. Always good for a few dramatic and passionate moments.
We wish Sofia & Abanoub the very best for their future together. We felt privileged to be part of their wedding day.